ReTree Irondequoit
This initiative plants and maintains native trees and other native flora in Irondequoit, NY.
---
Our goal for Fall 2023 is to plant and provide ongoing care for at least 2 native trees at a location in Irondequoit.

Please let us know if you are interested in providing a location! Any business or private property is eligible!

About ReTree Irondequoit
This is a new initiative for the Color Irondequoit Green (CIG) group. The plan is as follows:
Work with a volunteer property owner for a location.
Work with the property owner to agree on plants
ReTree plants and provides deer-proofing fence
ReTree provides ongoing care (weekly water in warm months, observation of needs)
That's it! This initiative is available for free to the property owner. Fall is the perfect time to begin the growing process, so if you are interested in participating, please reach out soon using the contact us button above! This initiative was inspired and encouraged by ReTree Webster (part of the Friends of Webster Trails).
Check out potential tree and flora options below! These are options for what can be planted are your location.
Pussy willow sapling, 2 ft
General information: A narrow, deciduous, perennial shrub or small tree that grows to 20 feet. It has multiple trunks. Furry catkins appear in late winter. This plant is short-lived, growing in full sun and moist soils.
Ready to plant this fall!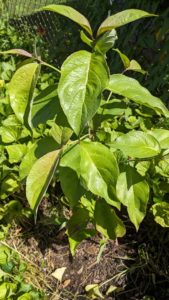 White dogwood sapling, 3 ft
General information: A small, deciduous, perennial tree. It typically grows 15-30 feet tall with low branches. White flowers in warm months and red fruits in cooler months. Deer resistant and grows in partial to full shade, and in dry to moist, well-drained soils.
Ready to plant this fall!
2 Serviceberry saplings, 1 ft
General information: Deciduous, tall shrub or small tree growing about 15-25 feet tall. White flowers and the bark is gray with a reddish cast. Small, edible berries are reddish-purple. Grows in full sun to full shade. Fruit does best in full sun.
These tree are not ready yet!